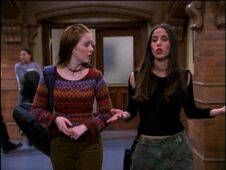 Adam's College
is the fictitious college in Boston that Sabrina attended in the show's
fifth
and
sixth
season, along with
Roxie King
,
Morgan Cavanaugh
and
Miles Goodman
. The college offers student accommodation, however Sabrina had to find private accommodation due to deciding she wanted to move out for college very late.
Zelda Spellman
got a job at the college as a Physics professor, much to Sabrina's (initial) annoyance.
Adam's College is apparently only a two-year school, as Sabrina, Roxie, and Morgan graduate from there after only two years.
Ad blocker interference detected!
Wikia is a free-to-use site that makes money from advertising. We have a modified experience for viewers using ad blockers

Wikia is not accessible if you've made further modifications. Remove the custom ad blocker rule(s) and the page will load as expected.