As Westbridge Turns
is the twenty-first episode of
the first season
of
Sabrina the Teenage Witch
.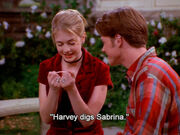 Summary
A bored Sabrina gets more than she bargained for when Hilda offers her a "can of worms" spell to spice up her daily life which is transformed into a melodramatic soap opera. When a mysterious one-eyed janitor accidentally hits Harvey with a ladder, Sabrina's sweetheart wakes up with amnesia, and a dastardly Libby seizes the chance to steal him, convincing him that he is her boyfriend and has agreed to kiss her in public at the climax of the school fashion show. Libby also steals the diamond ring that Mr. Pool is about to offer to the school nurse and plants it on Sabrina's bag, who must enlist her aunt's help to prove her innocence before the spells runs its narrative course.
Magic Notes
Uses of Magic
Sabrina makes Salem nude.
Hilda poofs in a can of worms.
Zelda changes Sabrina's clothes.
Quotes
Sabrina

: Jenny! Are you okay?

Jenny

: Yes, my hair broke my fall.
Nurse Nancy

: Come on, I'll give you your flu shot.

Sabrina

: So, are you and Mr. Pool dating?

Nurse Nancy

: No, of course not! And if the school board knew anything about this, we'd both be out of jobs
Sabrina

: Look, here's Harvey! I wonder if he has anything exciting to say.
Trivia
We find out that Mr. Pool's first name is Eugene, or Gene for short. His name is obviously a pun on the scientific term "gene pool."
In this episode, Harvey gives Sabrina a bracelet with the inscription "12:36," which is the time that they met in the Pilot episode. The bracelet will play a pivotal role in the series finale, "Soul Mates."

The title refers to soap opera

As the World Turns

.

Beverly Johnson, who plays the Fashion Director in this episode, is a famous model.
Ad blocker interference detected!
Wikia is a free-to-use site that makes money from advertising. We have a modified experience for viewers using ad blockers

Wikia is not accessible if you've made further modifications. Remove the custom ad blocker rule(s) and the page will load as expected.