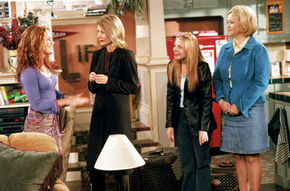 Every Witch Way but Loose
is the first episode of
the fifth season
and the the ninety eighth overall episode of
Sabrina the Teenage Witch
.
Summary
After attending counseling sessions in the Other Realm to get over her breakup with Harvey, Sabrina decides to make some big changes in her life, starting with attending college and living away from home like a normal freshman but she soon discovers a normal freshmen doesn't have life so easy. Hilda and Zelda grapple with Sabrina's decision to fly the nest and live at college. After the aunts magically sabotage all of Sabrina's potential new homes, she is finally accepted into an off-campus house where their niece has issues with her new housemates. Roxie, her tough roommate, refuses to let Sabrina stay in their room, deeming her too perky, Morgan, the resident advisor, is too wrapped up in her self to help her, and Miles is a paranormal, conspiracy theorist.
Magic Notes
Uses of Magic
Quotes
Sabrina: "Sorry, you can't come with me."
Salem: "No please, please please! Don't leave me here with these wretched..."
(Hilda and Zelda glare at Salem)
Salem: "...Goddesses!"
Trivia
This is the first episode to air on The WB. The network picked up the show after it was cancelled by ABC which

is the cause for the many cast and staff changes. Nearly all of the writers were let go and and a new team was brought on to give the show a more mature feel.
The episode opens with the revelation that Harvey has broken up with Sabrina after discovering that she's a witch. However, Harvey previously found out Sabrina's secret in the Season 1 episode "Troll Bride" and the Season 2 episode "To Tell a Mortal" and took it well. It could be that he didn't like that he was lied to for three years.
This is the first episode that Harvey does not appear in, with the exception of brief clips from the Season 1 episode "First Kiss," and the Season 3 episode "The Long and Winding Shortcut" shown while Sabrina's in therapy.
This episode introduces a new opening credits sequence. This is the first sequence to feature a full vocal theme song.
This is the last appearance of Marnie.
From this episode on, Sabrina tends to use a laptop in place of her Magic Book though the book still appears in some episodes. Sabrina will return to regularly using the Magic Book in Season Seven.

In the living room of Sabrina's college dorm, there's a street sign for Ashmont Terrace. Ashmont was the production company that William Asher and Elizabeth Montgomery ran during the last few seasons of Bewitched.

This episode marks the first appearance of

Morgan Cavanaugh

,

Miles Goodman

and

Roxie King

.

Elisa Donovan joins the cast as Morgan Cavanaugh. Donovan co-starred in the teen comedy series Clueless on which Melissa Joan Hart crossed over to as Sabrina. She is the fourth Clueless cast member to become a Sabrina character.
This is the first episode to not have Sabrina with her natural blonde hair as she's changed it to strawberry blonde. She will switch to auburn later in the season.
Salem is in therapy for the loss of his "best friend" Harvey. This is likely justified from the Season 3 finale The Good, the Bad and the Luau , where a Dr.Doolittle spell allowed Harvey to talk to animals without suspicions.


During that weekend, Harvey and Salem became pals.

Sabrina implies that her father has moved back to the Other Realm.

The "Sabrina" producers tried many times during seasons 5-7 to change the "Sabrina, the Teenage Witch" title to just "Sabrina," because Sabrina was no longer a teenager. However, Archie Comics (which owns the rights to the "Sabrina" character,) prohibited the show from changing the title. For marketing purposes, though, the WB just called the show "Sabrina" in the advertisements.

According to "Sabrina" executive producer Paula Hart, Nate Richert (Harvey Kinkle) was initially let go at the start of this season because it was thought that he was "part of the high school baggage that Sabrina needed to leave behind." Since so many viewers complained about his disappearance, however, the producers brought Harvey back for a few guest-spots during season five. He rejoined the cast of "Sabrina" full-time in season six.

The episode title references the 1978 movie

Every Which Way But Loose

, starring Clint Eastwood.
Ad blocker interference detected!
Wikia is a free-to-use site that makes money from advertising. We have a modified experience for viewers using ad blockers

Wikia is not accessible if you've made further modifications. Remove the custom ad blocker rule(s) and the page will load as expected.