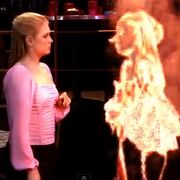 Getting to Nose You is the 16th episode of
the seventh season
and the 157th episode of the series overall.
Summary
Sabrina gets tongue-tied every time she tries to tell Aaron her feelings, so she uses her magic to find a way to express her true feelings by conjuring her very own Cyrano de Bergerac. However, Sabrina is displeased when her Cyrano gets closer to Aaron than she would like.
Meanwhile, Morgan and Roxie advise Harvey on how to get Sabrina back.
Magic Notes
Uses of Magic
Spells
To Hear Aaron's Thoughts
(Cast by Sabrina Spellman)
Feelings of love I cannot find,
help me to hear what's on Aaron's mind.
To Conjure a Personal Cyrano
(Cast by Sabrina Spellman)
I can't come up with the words alone,
So send me a Cyrano of my own.
To Switch Appearances with Cyrano
(Cast by Sabrina Spellman)
I need to know the real story,
So give my nose a greater glory.
To Give Cyrano Back Her Appearance
(Cast by Sabrina Spellman )
I'm not getting what I seek,
I give you back your big old beak!
Ad blocker interference detected!
Wikia is a free-to-use site that makes money from advertising. We have a modified experience for viewers using ad blockers

Wikia is not accessible if you've made further modifications. Remove the custom ad blocker rule(s) and the page will load as expected.