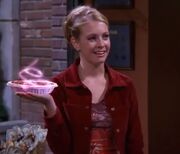 Humbe Pie
is the eighth episode of
the sixth season
and the 127th overall episode of
Sabrina the Teenage Witch
.
Summary
Morgan spends all her cash when she goes on a shopping spree and has to borrow money from Sabrina, Roxie & Miles, leading them to band together to help Morgan financially by lending her money to pay her share of the rent. But Sabrina is left to help Morgan after her family cuts her off, but then Morgan refuses to get a job to pay her friends back, forcing Sabrina to literally offer her a big helping of Humble Pie.
Meanwhile, Zelda and Salem join the Other Realm book club, and Hilda goes to a dinner party at her boyfriend Preisdent Banning's house, discovering that Zelda's boyfriend Arthur Carlin is dating a younger woman.
Magic Notes
Uses of Magic
Notes
Ad blocker interference detected!
Wikia is a free-to-use site that makes money from advertising. We have a modified experience for viewers using ad blockers

Wikia is not accessible if you've made further modifications. Remove the custom ad blocker rule(s) and the page will load as expected.