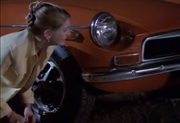 My Nightmare, the Car
is the twentieth episode of
the second season
and the fourty fourth overall episode of
Sabrina the Teenage Witch
.
Summary
When Sabrina's aunts and Valerie's parents refuse to buy the girls their own cars, they come up with an idea to pool their money to buy one themselves. At first, Hilda and Zelda are hesitant to go along with the girls' plans, but after seeing the schedule Sabrina and Valerie come up with, they reluctantly go along with it. When they end up fighting over the car, Sabrina starts looking in the Other Realm for her own car and finds one within her price range. However, what Sabrina didn't bargain for was that what she bought was a talking car who has separation anxiety problems.
Meanwhile, Hilda and Zelda have to find their accountant who skipped town with all of their magic
Quotes
Magic Notes
Uses of Magic
Zelda summons their accountant in a filing cabinet.
Sabrina's car falls from the ceiling.
Sabrina tries to send the car to the street, but the emergency brake is on. She sends it out to the street after fixing it. Then, the car reappears In her room.
Hilda sends the accountant to outer space.
Trivia
Libby does not appear in this episode.

The title is a spoof of the TV show

My Mother the Car

.

We learn that the Quizmaster has a second job at Callisto Motors in the other realm, he is working there part-time.
Ad blocker interference detected!
Wikia is a free-to-use site that makes money from advertising. We have a modified experience for viewers using ad blockers

Wikia is not accessible if you've made further modifications. Remove the custom ad blocker rule(s) and the page will load as expected.