No Place Like Home
Comments

0
337pages on
this wiki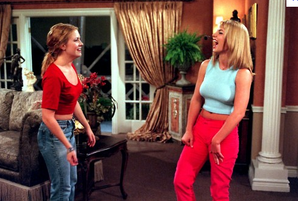 No Place Like Home
is the first episode of
the fourth season
and the seventy sixth overall episode of
Sabrina the Teenage Witch
.
It's Sabrina's 18th birthday and as a present, her father asks her to come live with him in Paris. At first, Sabrina says no because of how good her senior year is going to be: Libby has gone to boarding school, Valerie's family is moving to Alaska and she's going to be moving in with the Spellmans, and she discovers that Mr. Kraft will no longer be the vice principal.
Things begin to turn sour when Valerie decides that she cannot leave her family and Mr. Kraft is revealed to be the new principal. After having a fight with Harvey because of his new friend Brad who doesn't seem to like her, Sabrina leaves everything behind and moves to Paris with her father who lives in an apartment in the Eiffel Tower with Gail and her new step-brother Donald. It is only when Salem starts a civil war on Pluto to lure Ted away that Sabrina sees that her life in Westbridge is the life for her.
Hilda: (after she and Zelda are transformed into penguins) "D'you wanna wreak havoc in Gotham City?"
Magic Notes
Edit
Uses of MagicEdit
This episode marks the first appearance of Brad Alcerro.
This is the first season that does not have Libby as a regular character.
This is the first season since Season 1 that does not have Valerie as a regular character. Unlike Jenny, her disappearance is explained.
This is the first appearance of Edward since the Season 1 episode "Meeting Dad's Girlfriend," and he is now portrayed by Doug Sheehan. This is the second appearance of Gail who is now portrayed by Jacqueline Schultz and it turns out that she and Ted have gotten married. It is also revealed that Gail has a son named Donald.
This season introduces a new opening credits sequence and a different theme.

Britney Spears guest stars in this episode

after Melissa Joan Hart appeared in Britney's "(You Drive Me) Crazy" music video.

The video was featured in the closing scene of this episode as a promo for Melissa's movie, Drive Me Crazy.