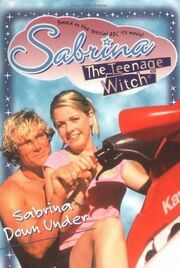 Sabrina Down Under is the second of the two TV Movies based on the TV series. It was aired in 1999 during the show's fourth season run.
Summary
Sabrina travels to Australia's Great Barrier Reef with Gwen, for a week-long vacation where they try to help protect a hidden mermaid colony whose habitat is threatened by ocean pollution, and by local marine biologist Dr. Julian Martin, who is determined to find the colony as his claim to fame. While Sabrina finds a friendship with Barnaby, a "merman" from the mermaid colony, Salem finds a possible romance with another witch-turned-into-a-cat named Hilary, but finds Sabrina's problems interfering with his plans. In order to prevent Julian from launching a search for the mermaid colony, she casts a spell to create a storm to keep him in port, which succeeds except that a lightning bolt knocks Sabrina unconscious, and when she comes to she learns she has lost her powers, at least temporarily.
Magic Notes
Uses of Magic
Spells
To Give a Merman Legs for 48 Hours
(Cast by Sabrina Spellman)
Water and sand,
Land and air,
Give me a man with legs to spare.
To Create a Storm
(Cast by Sabrina Spellman)
Waves to toss with violent motion,
Squall upon a tranquil ocean.
Clouds and rain, thunder and lightning,
Give me a storm that's truly frightening.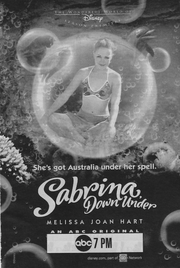 Notes/Trivia
This movie takes place in between the Season 3 finale "The Good, the Bad and the Luau" and the Season 4 premiere "No Place Like Home."
A novel adaptation of the movie was released in the Sabrina the Teenage Witch novel series. As with the two other "special novels," it is unnumbered.
The cat and puppet used for Hilary are the same ones used for Juliette Jingleheimer in the season 4 episode "Salem and Juliette."
Lindsay Sloane (who starred as Valerie Birkhead) portrays the Mermaid Fin, making this the actresses' last appearance in the Sabrina the Teenage Witch franchise.
Sabrina Down Under is currently the only part of Sabrina the Teenage Witch that isn't available on DVD.
This is the final appearance of Gwen.
Ad blocker interference detected!
Wikia is a free-to-use site that makes money from advertising. We have a modified experience for viewers using ad blockers

Wikia is not accessible if you've made further modifications. Remove the custom ad blocker rule(s) and the page will load as expected.