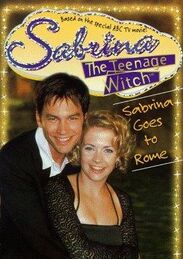 Sabrina Goes to Rome is the first of two TV movies based on the TV series. It was released on 4th October 1998, at the same time as the show's third season run.
Cast
Starring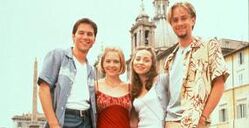 Summary
During Spring Break, Sabrina's father Edward asks her to go to Rome to figure out what happened to his sister Sophia who disappeared centuries ago in the "eternal city." The only clue Sabrina has is Sophia's locket which can't be opened. If Sabrina can't open the locket and release the power trapped within, her Aunt Sophia will be lost forever. In Rome, Sabrina meets Gwen, a British witch who's very rusty with magic and romance and the two become fast friends. Sabrina also meets Paul, an attractive American photographer and his friend Travis who discover that Sabrina's a witch and attempt to get evidence in order to sell the story to the tabloids.
Magic Notes
Uses of Magic
Spells
To Make a Place Look As It Did In the Past
(Cast by Sabrina Spellman )
Soot and grime,
Dust of time,
Take us back to the scene of the crime.
To Turn Alberto into a Pigeon (intended love spell)
(Cast by Gwen )
Alberto, who with my heart does play,
Fly to my side on wings of grey,
And there you'll stay,
Without delay!

(Note: This spell can only be reversed with a kiss from the spell caster.)
Notes/Trivia
Sabrina Goes to Rome was added as a bonus feature on the final disk of the Season Seven DVD set. Unlike much of the music on the Sabrina DVD releases, all of the movie's soundtrack remains as it was when aired.
The two songs featured in the film are "Sky Fits Heaven" by Madonna (played at the very beginning when Sabrina is in the taxi) and "Crush" by Jennifer Paige.
A novel adaptation of the movie was released in the Sabrina the Teenage Witch novel series. As with the two

other "special novels," it is unnumbered. A second novel adaptation of the movie was released as part of the "Salem's Tails" spin-off series; this one however was written from Salem's perspective, so differed from the first novel adaptation in many ways.
This movie takes place in between the Season 2 finale "Mom vs. Magic" and the Season 3 premiere "It's A Mad Mad Mad Mad Season Opener."
Sabrina has a brief tryst with Paul despite her current situation: at this time, she's trying to decide whether to date Harvey or Dashiell.
Sabrina says that she's "never met a witch who lived in this realm before" but she has met and dated Dashiell. (Sabrina met Dashiell the first Time in the other Realm)
Sophia is the last of Sabrina's father's siblings we meet. Oddly, she is never mentioned on the show by Hilda and Zelda or any other family member.
This is the first appearance of Gwen.
We learn that when Sabrina has the hiccups, things begin to levitate.
We learn of the rule that when a witch tells a mortal that they're a witch, and that mortal betrays them by telling someone else, the witch must turn the mortal into a pile of stone in 12 hours or they'll be stripped of their magic and cast out. This rule will be repeated in the Season 3 episode "Sabrina, the Matchmaker" and the Season 6 episode "I Think I Love You."
Ad blocker interference detected!
Wikia is a free-to-use site that makes money from advertising. We have a modified experience for viewers using ad blockers

Wikia is not accessible if you've made further modifications. Remove the custom ad blocker rule(s) and the page will load as expected.