Magic powers. Great clothes. Dreamy guys. What more could a girl want for her sixteenth birthday?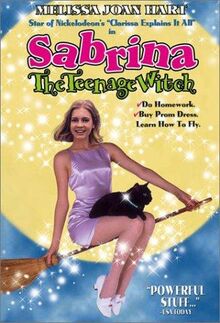 Sabrina the Teenage Witch is a movie that premiered on Showtime April 7, 1996. This made-for-TV movie was meant to be a pilot for the TV series. There were some changes made, especially concerning the characters, for the series. The only actors that would go on to be on the TV show were Melissa Joan Hart as Sabrina Spellman and Michelle Beadouin as Jennifer Kelly.
Cast
Sherry Miller as Aunt Hilda
Charlene Fernetz as Aunt Zelda
Michelle Beaudoin as Marnie Littlefield
Ryan Reynolds as Seth 
Tobias Mehler as Harvey
Lalainia Lindbjerg as Katie Lemore
Laura Harris as Freddie
Kea Wong as Fran
Jo Bates as Coach
Janine Cox as Sales Clerk
Biski Gugushe as Larry
Tyler Labine as Mark
Jim Swansburg as Mr. Dingle
Noel Geer as Jeff
Trailer
Ad blocker interference detected!
Wikia is a free-to-use site that makes money from advertising. We have a modified experience for viewers using ad blockers

Wikia is not accessible if you've made further modifications. Remove the custom ad blocker rule(s) and the page will load as expected.