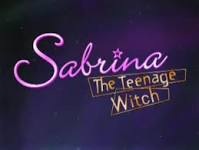 Sabrina, the Teenage Witch is a television comedy series based on the comic book series and film of the same name.
About
The show aired from 1996 till 2003, first on ABC and later on WB. It centered around the adventures of Sabrina Spellman, an teenage half-witch who, on her sixteenth birthday, discovers she has magical powers. Sabrina lives in Westbridge, Massachusetts with her fully witch aunts, Hilda and Zelda Spellman, along with their wise cracking talking cat, Salem
Starring
Recurring cast
TV Movies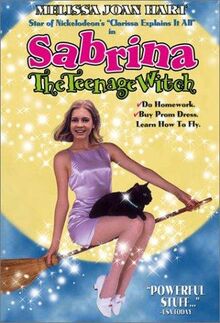 Pilot
Magic powers. Great clothes. Dreamy guys. What more could a girl want for her sixteenth birthday?
Sabrina the Teenage Witch
is a movie that premiered on Showtime April 7, 1996. This made-for-TV movie was meant to be a pilot for the
TV series
. There were some changes made, especially concerning the characters, for the series. The only actors that would go on to be on the TV show were
Melissa Joan Hart
 as 
Sabrina Spellman
 and
Michelle Beaudoin
 as 
Jenny Kelley
.
STARRING
TRAILER
Sabrina Down Under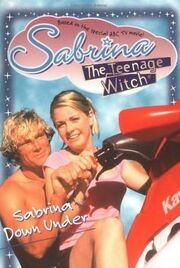 Sabrina Down Under is the second of the two TV Movies based on the TV series. It was aired in 1999 during the show's fourth season run.
Sabrina travels to Australia's Great Barrier Reef with
Gwen
, for a week-long vacation where they try to help protect a hidden mermaid colony whose habitat is threatened by ocean pollution, and by local marine biologist
Dr. Julian Martin
, who is determined to find the colony as his claim to fame. While Sabrina finds a friendship with
Barnaby
, a "merman" from the mermaid colony,
Salem
finds a possible romance with another witch-turned-into-a-cat named
Hilary
, but finds Sabrina's problems interfering with his plans. In order to prevent Julian from launching a search for the mermaid colony, she casts a spell to create a storm to keep him in port, which succeeds except that a lightning bolt knocks Sabrina unconscious, and when she comes to she learns she has lost her powers, at least temporarily.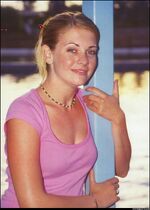 SPELLS
To Give a Merman Legs for 48 Hours
(Cast by Sabrina Spellman)
Water and sand,
Land and air,
Give me a man with legs to spare.
To Create a Storm
(Cast by Sabrina Spellman)
Waves to toss with violent motion,
Squall upon a tranquil ocean.
Clouds and rain, thunder and lightning,
Give me a storm that's truly frightening.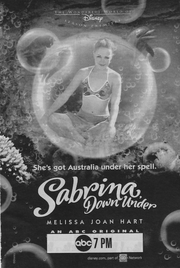 TRIVIA
Sabrina Goes To Rome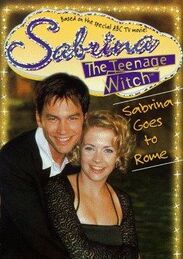 Sabrina Goes to Rome is the first of two TV movies based on the TV series. It was released on 4th October 1998, at the same time as the show's third season run.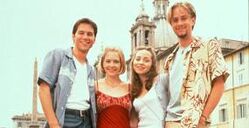 During Spring Break, Sabrina's father Edward asks her to go to Rome to figure out what happened to his sister Sophia who disappeared centuries ago in the "eternal city." The only clue Sabrina has is Sophia's locket which can't be opened. If Sabrina can't open the locket and release the power trapped within, her Aunt Sophia will be lost forever. In Rome, Sabrina meets Gwen, a British witch who's very rusty with magic and romance and the two become fast friends. Sabrina also meets Paul, an attractive American photographer and his friend Travis who discover that Sabrina's a witch and attempt to get evidence in order to sell the story to the tabloids.
STARRING
SPELLS
To Make a Place Look As It Did In the Past
(Cast by Sabrina Spellman )
Soot and grime,
Dust of time,
Take us back to the scene of the crime.
To Turn Alberto into a Pigeon (intended love spell)
(Cast by Gwen )
Alberto, who with my heart does play,
Fly to my side on wings of grey,
And there you'll stay,
Without delay!

(Note: This spell can only be reversed with a kiss from the spell caster.)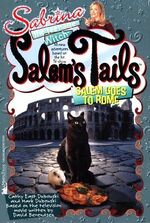 TRIVIA
Opening credits
Sabrina the Teenage Witch
has had various opening credits over the course of the series.
Seasons 1-3
The opening titles of the first three seasons show Sabrina in front of a mirror posing while magically changing into four different costumes and outfits as the cast members' names quickly flash on the bottom of the screen. The first three outfits are always the same, but the fourth one changes from episode to episode. At the end, Sabrina would say some sort of pun that related to the last outfit, then magically disappear.
Season 4
The opening titles change for the first time in the fourth season. The characters are displayed doing different things in rising bubbles and bubbles in the back show Sabrina in the different outfits and costumes she changed into in the original opening credits and throughout the first three seasons. There are quiet vocals in the background. The sequence ended with Sabrina zapping one of the bubbles and looking into the camera.
Lyrics:
"Ah-ahh. Here we go now.
Da-da-da-da-da-da-da
Secret, secret.
Secret."
Seasons 5-7
The opening credits of seasons 5-7 are accompanied with a vocal theme song and feature Sabrina at various locations around Boston: Harvard Bridge, Boston Common, Union Oyster House, Massachusetts State House, Quincy Market, Newbury Street, Harvard University, Tufts University, and Beacon Hill. In the credits of seasons 5 and 6, after leaving Newbury Comics on Newbury Street, Sabrina walks down a flight of stairs and then teleports herself into her dorm room, lying on her bed next to Salem. In the final season, however, she arrives at the entrance to Scorch Magazine and upon pushing the door open, she is revealed to be walking into her house to greet Roxie, Morgan, and Salem.
Lyrics:
"Life's changing around me
And I'm gonna make it mine
I'm reaching out and living by my rules
Time's moving way too fast
I wanna make it last
Cause I'm out on my own now
And I like the way it feels"
Credited Cast
The following cast members have been credited in the opening sequence (Note: Many returned as guest stars in later seasons. Also, many starring roles were credited after the opening sequence, therefore are not included in this list):
CAST BILLING
Certain cast members were given special credits such as "and" "with" or "...as (character)" to show higher billing.
Melissa Joan Hart is credited with "Starring" before her name at the start of every opening sequence to show that she has top billing. Caroline Rhea and Beth Broderick are given second and third credit for the six seasons they starred.
In Season Two, Nick Bakay begins being credited with "Nick Bakay as the voice of Salem". This stays the same until Season Five when his credit is changed to "And Nick Bakay as the voice of Salem". The "And" is removed in Season Seven.
Martin Mull is credited with "And Martin Mull as Willard Kraft" for as long as he stars in the show (Seasons 2-4).
Alimi Ballard's (Albert the Quizmaster) credit reads "With Alimi Ballard" in season two, appearing in between Nick Bakay and Martin Mull for that one season.
Finally, in Season Seven, Soleil Moon Frye is included in the opening sequence for the first time with "And Soleil Moon Frye as Roxie". This is the reason Nick Bakay's "And" is removed after Season Six.
Seasons
THE STORY begins with Sabrina's sixteenth birthday; which also happened to be the day that Sabrina started at Westbridge High School. Her aunts reveal to her that she is half witch, half mortal and give her a cauldron and a magic book titled "The Discovery of Magic". Through this book, Sabrina can communicate with her father, also a witch, and learns that she is forbidden from seeing her mortal mother due to rules set by The Witches Council. School starts with both highs and lows for Sabrina. She quickly befriends outcast class mate Jenny Kelley and falls for charming jock Harvey Kinkle; but also quickly falls into the bad graces of cheerleader and bully Libby Chessler. Sabrina struggles to balance her life as a witch and her life as a mortal teenage girl throughout the season. A relationship builds between herself and Harvey while she struggles to keep the new world she's discovering hidden from the people she cares for.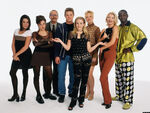 Exactly one year has passed since Sabrina found out she was a witch and on her seventeenth birthday she learns that she must start studying in order to get her Witch's License. Throughout the season, Sabrina is tested by her Quiz Master and must prove that she is competent enough with her powers to be allowed full access to them. Sabrina befriends Valerie Birkhead, new girl at Westbridge and takes a break in her relationship with Harvey so that she can focus on her magical studies. During this break, Sabrina meets another half-witch, half-mortal; Dashiell Calzone and by the end of the season it becomes clear that Sabrina will have to eventually choose between the two. Sabrina is also given a terrible ultimatum when she is faced with having to choose between her magic and her mother.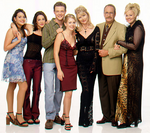 Sabrina has passed her tests and achieved her Witch's License, but before it can be used, she must first uncover her family secret. Various distant family members visit the Spellman household throughout the course of the season, giving Sabrina cryptic clues in order to help her work out the secret. When the secret finally is discovered, Sabrina finds herself on trial in Hawaii, and if the verdict doesn't go her way, the cost might be her life.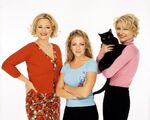 Valerie has moved away for good, Harvey's old friend Brad Alcerro has returned to Westbridge and takes an instant disliking to Sabrina, Mr. Kraft has been promoted from vice principal to principal and intends to use his power to his full advantage... all of this leads to Sabrina feeling stressed and lonely. On top of preparing to leave high school for college, Sabrina is given the duty of mentoring a fellow witch, Dreama, who's clumsiness with witchcraft causes all manner of mayhem. With help from her aunts, Sabrina discovers that Brad is a Witch Hunter and Sabrina must not only keep her own magic as secret as ever, but must also keep an eye on Dreama! No slip ups can be afforded. As if that wasn't enough, Sabrina begins work at the coffee house and falls for barista Josh Blackhart; causing a love triangle that leads to Harvey making a discovery that will rock Sabrina's world in a major cliffhanger in the season finale.
Goodbye Westbridge High, hello Adam's College! Sabrina has moved out of her aunts' house and moved in with fellow college students: Roxie King, Morgan Cavanaugh and Miles Goodman. Sabrina tries and often fails to handle her magic solo now that she doesn't have her aunts under the same roof as her, but ultimately finds herself needing their support. She can't get that far away from them anyway: Hilda has bought the coffee house, while Zelda gets a teaching job at her college! Sabrina has to deal with Josh dating Morgan, despite their feelings for each other getting harder and harder to hide.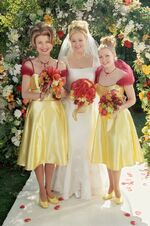 It is Sabrina's final year at college and things are changing fast. Harvey is in the picture once again, now dating Morgan and Sabrina's relationship with Josh hits potential turbulence when he gets a photography job in Prague. Sabrina acquires an internship at a local newspaper and it seems her career could take off fast. Aunt Hilda announces that she is engaged and wastes no time making wedding arrangements. Sabrina makes a sacrifice that may cost her everything in the season finale.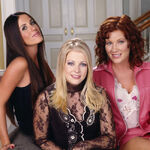 Sabrina has moved back into her Aunts' house with Morgan and Roxie now that they have moved back to The Other Realm. Sabrina gets a job at a music magazine called Scorch and although it may not be the right job for her, there is certainly a reason for her being there. Sabrina's love for Harvey proves itself strong when Sabrina gets engaged to Aaron Jacobs. With help from some of Sabrina's family, will true love conquer all? Or will Sabrina miss out on the chance to be with her soul mate?