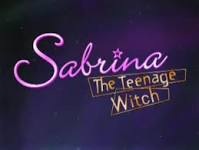 Sabrina, the Teenage Witch is a television comedy series based on the comic book series and film of the same name. The show aired from 1996 till 2003, first on ABC and later on WB. It centered around the adventures of Sabrina Spellman, an teenage half-witch who, on her sixteenth birthday, discovers she has magical powers. Sabrina lives in Westbridge, Massachusetts with her fully witch aunts, Hilda and Zelda Spellman, along with their wise cracking talking cat, Salem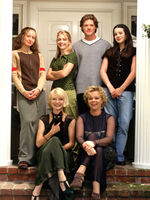 Season One Gallery
Season One began with Sabrina's sixteenth birthday; which also happened to be the day that Sabrina started at
Westbridge High School
. Her aunts reveal to her that she is half witch, half mortal and give her a cauldron and a magic book titled "
The Discovery of Magic
". Through this book, Sabrina can communicate with her
father
, also a witch, and learns that she is forbidden from seeing her mortal mother due to rules set by
The Witches Council
.
School starts with both highs and lows for Sabrina. She quickly befriends outcast class mate Jenny and falls for charming jock Harvey Kinkle; but also quickly falls into the bad graces of cheerleader and bully Libby Chessler. Sabrina struggles to balance her life as a witch and her life as a mortal teenage girl throughout the season. A relationship builds between herself and Harvey while she struggles to keep the new world she's discovering hidden from the people she cares for.
Season Two Gallery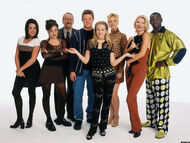 Exactly one year has passed since Sabrina found out she was a witch and on her seventeenth birthday she learns that she must start studying in order to get her Witch's License. Throughout the season, Sabrina is tested by her Quiz Master and must prove that she is competent enough with her powers to be allowed full access to them. Sabrina befriends Valerie Birkhead, new girl at Westbridge and takes a break in her relationship with Harvey so that she can focus on her magical studies. During this break, Sabrina meets another half-witch, half-mortal; Dashiell Calzone and by the end of the season it becomes clear that Sabrina will have to eventually choose between the two. Sabrina is also given a terrible ultimatum when she is faced with having to choose between her magic and her mother.
Season Three Gallery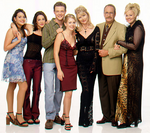 Sabrina has passed her tests and achieved her Witch's License, but before it can be used, she must first uncover her family secret. Various distant family members visit the Spellman household throughout the course of the season, giving Sabrina cryptic clues in order to help her work out the secret. When the secret finally is discovered, Sabrina finds herself on trial in Hawaii, and if the verdict doesn't go her way, the cost might be her life.
Season Four Gallery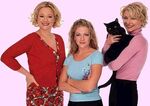 Valerie has moved away for good, Harvey's old friend Brad Alcerro has returned to Westbridge and takes an instant disliking to Sabrina, Mr. Kraft has been promoted from vice principal to principal and intends to use his power to his full advantage... all of this leads to Sabrina feeling stressed and lonely. On top of preparing to leave high school for college, Sabrina is given the duty of mentoring a fellow witch, Dreama, who's clumsiness with witchcraft causes all manner of mayhem. With help from her aunts, Sabrina discovers that Brad is a Witch Hunter and Sabrina must not only keep her own magic as secret as ever, but must also keep an eye on Dreama! No slip ups can be afforded. As if that wasn't enough, Sabrina begins work at the coffee house and falls for barista Josh Blackhart; causing a love triangle that leads to Harvey making a discovery that will rock Sabrina's world in a major cliffhanger in the season finale.
Season Five Gallery
Goodbye Westbridge High, hello Adam's College! Sabrina has moved out of her aunts' house and moved in with fellow college students: Roxie King, Morgan Cavanaugh and Miles Goodman. Sabrina tries and often fails to handle her magic solo now that she doesn't have her aunts under the same roof as her, but ultimately finds herself needing their support. She can't get that far away from them anyway: Hilda has bought the coffee house, while Zelda gets a teaching job at her college! Sabrina has to deal with Josh dating Morgan, despite their feelings for each other getting harder and harder to hide.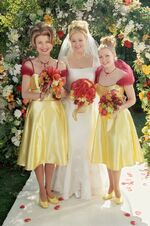 It is Sabrina's final year at college and things are changing fast. Harvey is in the picture once again, now dating Morgan and Sabrina's relationship with Josh hits potential turbulence when he gets a photography job in Prague. Sabrina acquires an internship at a local newspaper and it seems her career could take off fast. Aunt Hilda announces that she is engaged and wastes no time making wedding arrangements. Sabrina makes a sacrifice that may cost her everything in the season finale.
Season Seven Gallery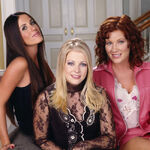 Sabrina has moved back into her Aunts' house with Morgan and Roxie now that they have moved back to The Other Realm. Sabrina gets a job at a music magazine called Scorch and although it may not be the right job for her, there is certainly a reason for her being there. Sabrina's love for Harvey proves itself strong when Sabrina gets engaged to Aaron Jacobs. With help from some of Sabrina's family, will true love conquer all? Or will Sabrina miss out on the chance to be with her soul mate?
Cast
Regular Cast
Recurring Cast
Notes/Trivia
Ad blocker interference detected!
Wikia is a free-to-use site that makes money from advertising. We have a modified experience for viewers using ad blockers

Wikia is not accessible if you've made further modifications. Remove the custom ad blocker rule(s) and the page will load as expected.