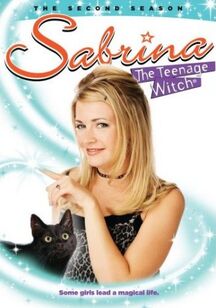 The second season of Sabrina the Teenage Witch aired from September 1997 until May 1998, and consists of 26 episodes. The season mainly focuses on Sabrina's magic being tested by her Quiz Master in order for her to achieve her Witch's License.
Season Two has a photo gallery
Summary
Seventeen and supernatural! There's magic in the air as Sabrina returns for her second season, with 26 supernatural episodes. Melissa Joan Hart stars as Sabrina Spellman, who lives with her Aunt Hilda, Aunt Zelda and Salem (their talking black cat). This year, Sabrina conjures up spells -and big laughs- for Harvey, Valerie, Libby and new Vice Principal Kraft. But Sabrina is also maturing into a responsible young woman. And there is so much more to learn as she trains for her witch's license with her new Quiz Master. Season Two highlights include special Christmas and Valentines Day episodes, and even a trip to Walt Disney World theme park! Enjoy all the magic moments.
Main Cast
Episodes
Ad blocker interference detected!
Wikia is a free-to-use site that makes money from advertising. We have a modified experience for viewers using ad blockers

Wikia is not accessible if you've made further modifications. Remove the custom ad blocker rule(s) and the page will load as expected.