Unicorns are mystical creatures that have been mentioned briefly in the series and movies. They are a key ingredient in Zelda's candy corn. It is noted that unicorn essence can be fatal to mortals in large quantities. It has also been implied that Unicorns are sentient beings when Salem stated that unlike merpeople, unicorns decide to hide themselves from mortals.
In "Rumor Mill ," Dashiell Calzone recalls upsetly he accidently turned his sister into a unicorn with a rumor.
In "Murder on the Halloween Express ," Sabrina Spellman accidently murdered Josh when she handed him a juice box with unicorn essence on it. Unicorn essence doesn't neccessarily need to be ingested to be fatal, it can also be absorbed through the skin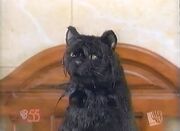 In "Sabrina Down Under ," Unicorns were mentioned by Salem when telling Barnaby that merpeople should hide from mortals.
Ad blocker interference detected!
Wikia is a free-to-use site that makes money from advertising. We have a modified experience for viewers using ad blockers

Wikia is not accessible if you've made further modifications. Remove the custom ad blocker rule(s) and the page will load as expected.